In loving memory of
Rachel Miller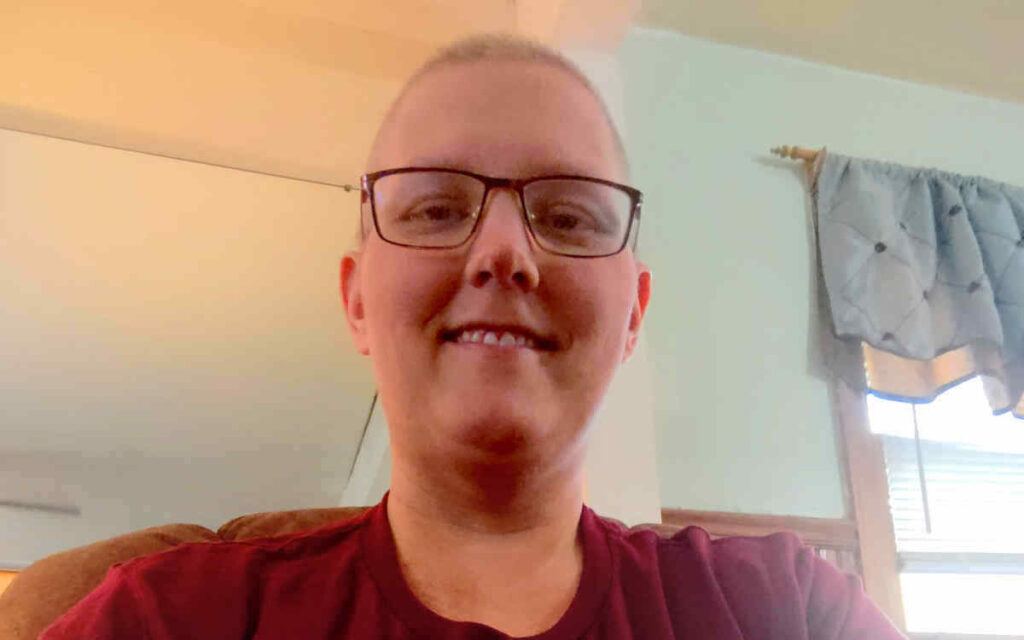 Rachel passed away in 2022. While she will be forever missed, her words and strength still offer us inspiration.

We at Tricia's Hope offer thanks to Rachel and her family for their courage.
My story may be all over the place, but I believe all of it is relevant to my diagnosis and treatment as well as survival.
In March 2020, shortly after the beginning of Covid, I was 8 months pregnant with our 6th child. I began having horrible hip pain, but I just assumed it was related to my pregnancy. I had never had hip/leg pain before, but being almost 39 I just tried to continue on with the pregnancy and enjoy this time. I was thrilled when schools for my older kids and my husband's work was closed because I love having everyone home. My oldest at that time had just turned 17, with my other kids being 15, 12, 5, 2, and then eventually a newborn. At 38 weeks pregnant I asked if it would be possible to be induced early due to the severe pain in my hip as well as a history of large babies and an induction was scheduled at 39 weeks. On April 25, 2020 I went to the hospital for my induction of our youngest son Joseph. This also happened to be my 39th birthday! I was hoping the hip pain would subside as soon as Joseph was born. After a few weeks it did start to go away, but never completely.
Throughout the summer of 2020 I continued with my busy mom life. Around August I noticed my big toe on my left leg had a numb and tingling feeling and that it seemed to be weaker than my right leg. The hip pain was starting to return more so I scheduled an appointment with a sports medicine doctor. I assumed this was from my pregnancy still. The appointment was scheduled for mid September. School started for my older kids, life moved on, my leg continued to become more numb and tingly, with pain, as I waited for my appointment.
My oldest daughter, 15, got into some trouble at school at the beginning of September, and I became a Mama Bear trying to protect her from these accusations. (While parts of my story technically have nothing to do with my diagnosis I feel they play a huge part in my survival.) I started to stay up late researching her rights as a student, but also was dealing with more and more leg pain. This combination led me to staying up straight for 7 days! It should also be noted that I have a history of depression and anxiety and was hospitalized when our third child was one for many months. I realized that my leg pain and sleeplessness was not good for me and asked my husband to take me to the local hospital on Monday evening. Unfortunately the waiting room was very full and freezing cold. Due to Covid, a blanket was not available, and the pain of sitting was unbearable. We chose to leave and go to urgent care. At urgent care they struggled getting blood pressure, and after being examined, they said it sounded like I had sciatica. I was given medication to hopefully help and told to follow up with the sports medicine doctor I was scheduled to see that Friday.
By Wednesday I have very little memory of what was happening as I continued to deal with severe leg pain and was not sleeping. My husband took me back to the ER where I was ultimately sent to a psychiatric facility as it was assumed I was dealing with a bipolar episode. This time was very fuzzy to me, but I was finally able to get some forced sleep. I was unfortunately placed on a 72 hour hold due to my behavior, which did not include weekends and would mean I was at the facility for a total of 5 days. During this time I continued to have severe leg pain and continually asked to be seen by a doctor. I could barely walk and would often cry from the pain.
On the last night before my release, I had a new roommate. As I was crying out from the pain she asked if she could pray over me. She said the rosary and I had this incredible warmth come over my body. It was seriously the most calming experience. She then taught me the Hail Mary to say myself which helped throughout the night. On the following day my 72 hour hold was up. I was finally able to get in touch with my husband and cried that I needed to get released. I wanted to make sure he supported my decision as I knew I was not having a mental health crisis. While the social worker was not wanting me to be released, the psychiatrist luckily supported me saying I was not a threat to myself or others and that I needed to be released.
On the way home with my husband, I cried and cried from my experience — I had begged for some help because I couldn't walk and was in so much pain, but had been ignored. I also was upset with myself because, during my pregnancy with Joseph, I had worked very hard on my mental health. (As I had stated, when our third was one, I was hospitalized for major depression.) We have an almost 7-year gap between our third and fourth child, so we have our bigs and our littles. With Joseph I consider him number three of the littles, and I was worried I would have another depressive episode after his birth, so I had worked very hard to not be hospitalized. This time, when I was hospitalized for 5 days, I was upset with myself, as it also resulted in an unexpected end to my breastfeeding journey with him, and I felt like I had failed my hard work to prevent a hospitalization.
That first night home I was still in extreme pain. Around two in the morning, my husband took me to the ER again. Luckily, my best friend from Kansas had come to help while I was originally hospitalized, and was still visiting to stay with our kids. I was checked for a blood clot in my leg, given two doses of pain medicine, and told again that it sounded like sciatica. The pain medicine helped to relieve the pain slightly, and we went home.
It was decided that I should take a week off from my mom duties, and we made arrangements for Joseph, who was 5 months at that time, to go spend a week with my parents near Ft Wayne; our 3-year-old, William, spent the week with my mother-in-law, who lived nearby; my older kids could take care of themselves and help some, and our 6 year old was in kindergarten, so my days I was able to relax, and my friend was able to go back home to Kansas. After a week my leg was still in extreme pain and I was worried about Joseph and William returning home in two days as I knew I still could not return to my mom activities.
It was decided that I would go back to the ER again. My husband would drop me off this time. The wait in the waiting room was horrible and uncomfortable. We assumed I had a slipped disc or something in my back causing the leg pain and were hoping for an MRI or scan of some sorts. Luckily the doctor immediately ordered one, so I didn't have to request it. When the doctor returned, she told me that the MRI showed a large mass in my back and spinal cord area. I remember hearing what she was saying, but not fully understanding the words coming out of her mouth. I knew something was wrong, but what she was saying was not what I was expecting her to actually be saying. I was also told I would be transferred down to Methodist hospital for the biopsy and to determine treatment.
I was transferred to Methodist on October 1. I continued to be in severe pain. During my stay there were times when I would scream out to God and ask "why?!" I would call my parents, who had become Catholic themselves, and ask them to pray the rosary with me over the phone because I had found it so comforting. My biopsy was completed, but I continued waiting for results.
On October 7, I received the official diagnosis of Large B Cell Lymphoma. I remember this day, as it was unfortunately also my mom's 66 birthday. I also remember the doctors finally giving me pain medicine that actually started to help! I was placed on a fentanyl drip which was AMAZING! Throughout this I always said the pain I was experiencing was worse than the three natural childbirths I had, with one of those being an 11 pound 9 ounce baby! I was immediately started on chemo and it was amazing how I slowly started to feel better after that first dose. While I was hospitalized I had to ask for so much help that I never had to ask for before. Using a bed pan because I couldn't even get out of bed and ask for help wiping was something I never imagined I would need. I was in the hospital for two weeks, and while I was again upset that I was hospitalized and away from my baby and children, this time I knew it was needed for me.
I went home and was scheduled for follow up chemo therapy and to have a port placed. On October 24, I was still having severe leg pain and couldn't even stand on my good leg without pain in my left leg still. We called an ambulance and was again taken back to the hospital. This time it was found that I had a blood clot in my left leg and near my lungs. I was hospitalized again for almost a week. I also will always remember this day because it was my youngest sister's wedding. I had wanted to go with our children, but we luckily had made arrangements for my oldest to take our daughters and 6 year old. Our 3 year old was with his grandma again, and my best friend had come back from Kansas when I was first diagnosed, and was still helping at the house for our baby Joseph. While I was in the hospital, I had my port installed. I was released on the Wednesday and scheduled for my second chemo treatment that Friday.
I had the chemo treatment and began to get used to the effects of starting chemo. I was tired and hated having my hair fall out. I tried not to be ashamed of myself, but life was hard. I hated being so tired and not being able to be "Mom". I had my third chemo treatment and a PET scan was followed the beginning of December. When I went for my 4th chemo treatment my husband and I were told the mass showed to be gone and was responding well to chemo! Due to Christmas holidays, my 5th round of chemo was scheduled after 4 weeks instead of the normal 3 weeks, which was wonderful for my body to have an extra week in between. I say the 5th and 6th rounds of treatment were the easiest and best of all. I started to feel better and the chemo wasn't making me as tired.
Unfortunately at some point during my treatments we noticed when my left leg wasn't elevated, my foot would turn purple and swell. I contacted a friend of mine, whose husband was a radiologist, and asked about suggestions for who to try and see. It was suggested to see an interventional radiologist, so I made an appointment through my primary care doctor; luckily he listened to what I told him and was asking for. I also had asked my cancer radiologist about beginning physical therapy since I was still unable to walk on my left leg. My primary care doctor also scheduled me to see a neurologist for a nerve and muscle test. When this was initially scheduled for weeks out, I asked to be out on a cancellation list and was able to get in quicker. At this appointment, I learned that I had no nerve or muscle activity in my left leg.
When I was originally diagnosed, I was told there may be permanent nerve and muscle damage due to the location of the tumor, so I just assumed this was what had happened. Luckily, my family and friends encouraged me to not just ignore these symptoms and I began physical therapy. As I continue with physical therapy, I look forward to seeing if the damage can be reversed. I am still scheduled to see the interventional radiologist to see about a vein study and the return flow from my foot. On February 15, 2021 I had another PET scan and on February 19, I saw the radiologist and oncologist who said the tumor was still gone and I am officially in remission, although I will still have radiation to hopefully prevent a recurrence.
Throughout my experience I have learned the importance of being an advocate for myself. I have had wonderful doctors, but it was because of me that I continued to ask for answers and go to the ER when something was wrong — asking to be seen for the swelling and discoloration in my leg, and beginning Physical Therapy to help build my leg strength. I know I have a long way to go still to walk, but I am getting there. I also had to be open to accepting help from family and friends, as well as strangers.
Going back to all the help I needed while in the hospital was at first embarrassing, but I knew I needed help and not to be ashamed. I am proud of how far I have come. I originally hated not having hair, but I realized I also wanted my children to see I am not ashamed of who I am. I want pictures taken with them to remember this time. It has definitely been hard, but we are getting through it. I am looking forward to my oldest graduating high school and our youngest is now crawling and starting to try and walk. Our other kids are all in between those stages, so life can still be wonderful and crazy. I want to be there for my kids. I don't know what the future holds, but I can only pray that God had a reason for all this.
Thinking back to when I was originally diagnosed, I believe that, had I not been dealing with the stress and anxiety of trying to help my daughter, the pain and sleepless nights I was going through would not have been as severe, and I probably wouldn't have been diagnosed as early. I also know that when I was finally diagnosed the pain became more severe! I believe my body was finally able to let me know I had a reason to be in pain and to stop trying to ignore it, but accept it.
Since my diagnosis I have continued to deal with more anxiety. There are times when I have dealt with panic attacks as I think about everything I have been through on this journey. It was hard. The fact that I had to initially go through psychiatric hospital and have my symptoms ignored still haunts me. Thankfully I was already established with an amazing therapist who has worked with me through all of this. As time goes by, I hope that I can eventually offer support to others who are faced with a cancer diagnosis. For now I can only hope my story helps others.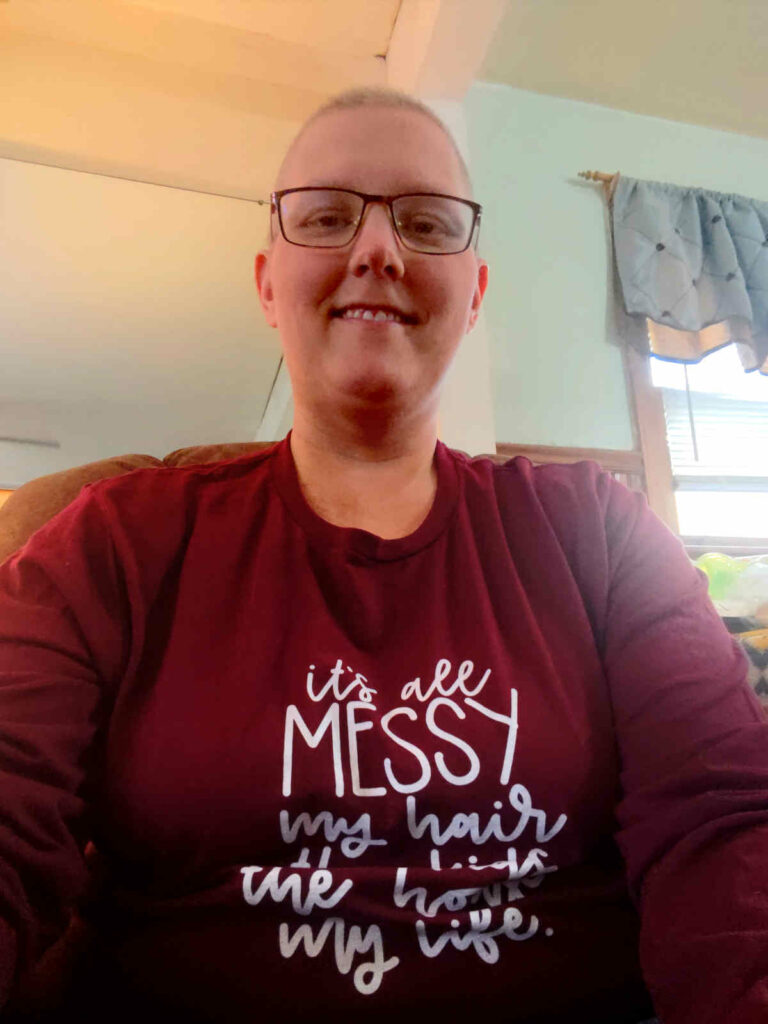 It is okay to advocate for yourself and continue to say that something isn't right. It's okay to go through depression and anxiety and not be ashamed of your life experiences. Build and learn from what you are and have been going through. Learn to accept help from others. Praying was a huge comfort to me.
Thank you for reading my story.